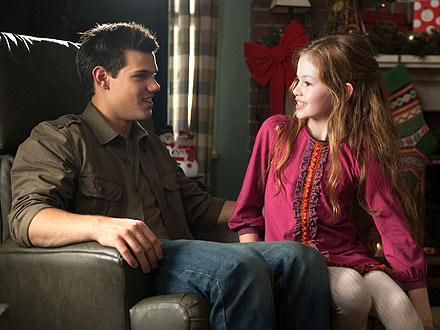 Here is still from
"Breaking Dawn Part 2"
where Jacob meets Bella's daughter Renesmee.
Taylor Lautner who plays Jacob admits that people think the bond between his character and Renesmee is
"creepy."
Because of Jacob's
"imprinting,"
he is tied to the child which is played by Mackenzie Foy. Jacob will be a protective, older-brother to Renesmee until she matures.
A part that is not seen in the book is that Renesmee grows rapidly, and will appear 17 when she's actually only seven years old.
"Everybody likes to tease me about it. I laugh along with them, but it's important for me to keep in my mind that it's as simple as a lifelong bond. It's not nearly as creepy as everybody likes to joke,"
Lautner said in his
Entertainment Weekly
interview.
"Breaking Dawn Part 2"
arrives in theaters on November 16th.
SOURCE:
People